When I first moved to Jackson, Wyoming from San Francisco in the summer of 2016 I couldn't wait for winter to come for a whole season of snow photography. I'd taken my first DSLR (Nikon D300) to Tahoe only a few months after buying it and still wasn't really sure what I was doing.
Waiting for the snow to come towards the end of November last year I can remember saying "snow is like photography cheating, everything looks great", and in many ways that's true. However, with the beauty, snow brings many challenges to photography that only a winter is below zero weather can teach you.
Gear
As I enter my second winter living in the mountains at 6,200 feet, I've upgraded to a
Canon 6D
with a Tamron 24-70 2.8 (
for Canon
/
for Nikon
) which is a set up I'd absolutely recommend again and again. I have a basic
$50 Amazon tripod
, but I really only use that for star photos and other long exposure images.
One thing you'll learn quickly being out in the cold from your cell phone, is how fast your battery dies in low temperatures. While you should always have
extra batteries
on hand, it's especially important in winter conditions.
Temperatures can drop below zero as the sun goes down and staying warm for winter sunset shots can be a challenge.
Hand warmers
and
foot warmers
will go a long way for keeping you comfortable and focused in the cold.
Keeping your hands warm is especially important, so finding a pair of gloves that aren't too bulky to operate your camera with is key. Look for insulated and weather sealed gloves and avoid cotton or knitted gloves to stay dry.
If you're going to be spending a long time outside taking photos I've found the combination of a
600 or 700 fill puffy jacket
under a
soft shell jacket
is the most effective to keep warm. The puffy will keep your insulated while the shell will fend off the wind and any falling snow.
Tall boots to keep the snow out will also keep you comfortable,
MuckBoots
are a favorite of Jackson locals. And as always base layers are an essential step of staying warm in the snow.
Shooting
If you've ever skied on a blue bird day then you know how bright snow conditions can be. I love the 6D but it is limited to a shutter speed of 1/4000 and any shot that requires a lower aperture is going to be a challenge not to over expose.
On the opposite end of the spectrum, shooting at night during a heavy snow fall can create some very unique images. Finding a source of outdoor lighting will illuminate the falling show and create a deep field of detail over your photo. You'll find the snow reflects the light spectacularly and the contrast can create some amazing textures.
Slowing your shutter speed down can catch the motion of the snow fall to create a star-trail like effect in the air. There isn't a lot of traffic in a small mountain town, especially at night during a snow storm, but if you can find a busy intersection and set up a tripod you can get some amazing light trails in the snow with a long exposure shot.
Editing Winter Photos
One aspect of winter photography I didn't anticipate being such a challenge was the editing process. I use Adobe Lightroom to edit all my photos and only dip into Photoshop if I want to remove a street sign or power line.
Blues are always a challenge when shooting outside and this can be especially difficult in the snow. Any shadowed area that has snow will read extremely blue and can sometimes overpower a photo. I've found the best remedy is to lower the blue saturation and raise the blue luminence. This brightens the areas that read as blue as well as reduce the overpowering color.
Keeping the snow bright and fresh looking will give your photos a refreshing and attractive look. Pulling the top point of your tone curves graph to the left until it lines up with the farthest right edge of the exposure histogram will ensure the brightest parts of your photo really shine.
If you're photo is really bright and you've lost contrast and texture in the snow, bring your highlights and white sliders down until you see more texture. Applying a local adjustment filter or brush with increased clarity can also bring out detail in bright snow areas.
Keeping It Fresh
In a sense I was right, shooting in the snow is cheating a bit. Everything looks just a little better with a layer of soft white snow on it. One thing I didn't expect was to get board of shooting in the snow. And I did.
After a while everything kind of looks the same, every edit feels repetitive. So how am I even more excited for my second winter photographing in Jackson?
I've embraced the challenge of finding new ways to capture the same things.
For example, I've been focusing more on people within the winter environment rather than the snow itself.
I've tried to get a little closer and focus on details and textures.
Find some color partially covered in snow (an old truck, a brightly painted house or colorful street art, etc) and let the contrast of the two carry the photo.
Now that I have a great low light camera in the 6D, I've made a point to get out and shoot at night more and pulled over on my way home from work when the snow fall is especially heavy.
Anyone who doesn't travel constantly can get bored with the most accessible locations in their area and it's important to find new ways to keep photos of those places fresh. I hope these tips will help you make the most of your winter photography experiences. If you have any questions feel free to send me a DM on Instagram @cole.mgkra.
I'd highly recommend our new ebook to learn more
This post is a great example some of the lessons taught in my new ebook, "Learn Photography. Real. Damn. Fast." 
In this book I'll teach you the basics of photography and editing and how I went from having never picked up a camera to shooting commercially in only one year.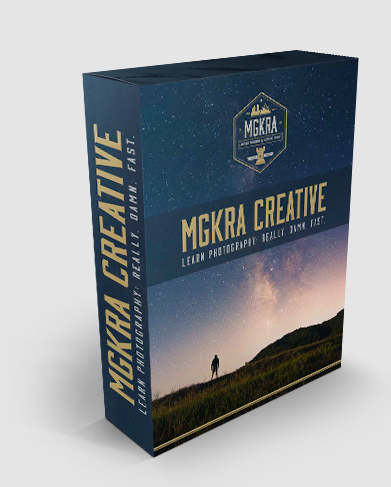 Since I started out as a Hacking Photography subscriber myself, I'm offering a 40% discount to Hacking Photography subscribers this week.
The ebook contains a wealth of information, tons of images, and plenty of examples of how my business partner Alex Taylor (also a Hacking Photography subscriber and pro photographer) create such striking edits.
Our ebook normally sells for $49.99 but you can get it this week for only $29.99.  As a bonus it also comes with a printable cheat sheet that you can take with you in the field!  If you've ever been stuck deciding what aperture, ISO, etc to choose while on the spot, this guide will steer you in the right direction.