Let me state the obvious, photography is a very expensive hobby. If you are anything like me you have a wish list of equipment that adds up to a very large sum.
But it isn't always essential to buy that kit item, with a bit of know-how you can improvise, let me show you how.
1. Reflectors
Reflectors are pretty vital pieces of equipment to add light to your shots.  You may not always have one to hand but you can make your own very easily.
For small subjects a card covered in metal foil is cheap and effective.  For larger subjects such as people or interiors a white bedsheet can make a huge difference.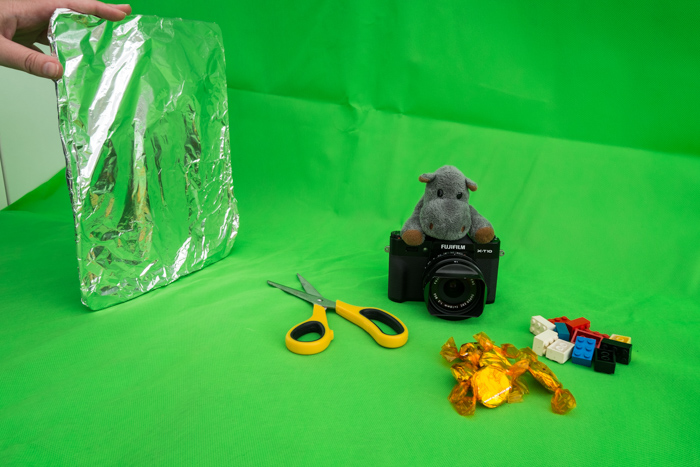 I wrapped a piece of cardboard in tin foil to use as a reflector in this shot.
2.  Backdrops

Possibly the easiest piece of equipment to improvise is the backdrop. Everyone has bed sheets and table linen they can grab but it's worth spending a moment and thinking further.
Keep your eyes peeled when you're out shopping or visiting thrift stores and you can save a small fortune. Shower curtains are another great backdrop possibility, they come in a huge range of colors and patterns.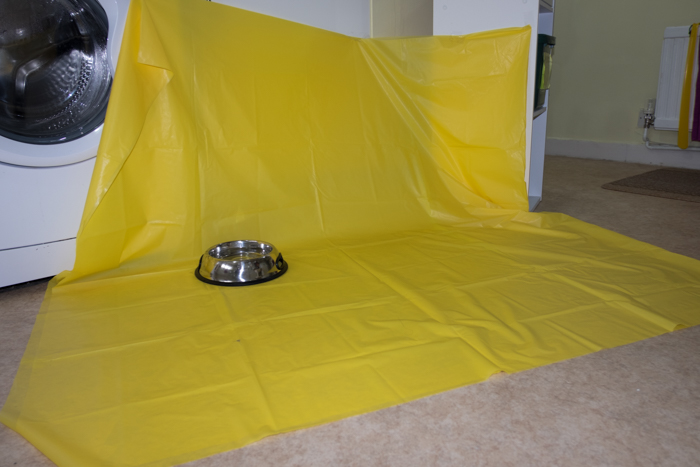 Plastic table cloths are inexpensive but make great wipe clean backdrops. They are my preferred choice for pet shots.  

3. Posing tubs
Professional posing tubs certainly look the part and serve a purpose but they come with a hefty price tag. A sturdy nest of tables provides matched seating of different heights and makes a great substitute.
If you are looking for posing tubs for infants a small dog bed covered in a soft blanket makes a great nest.
4. Studio lights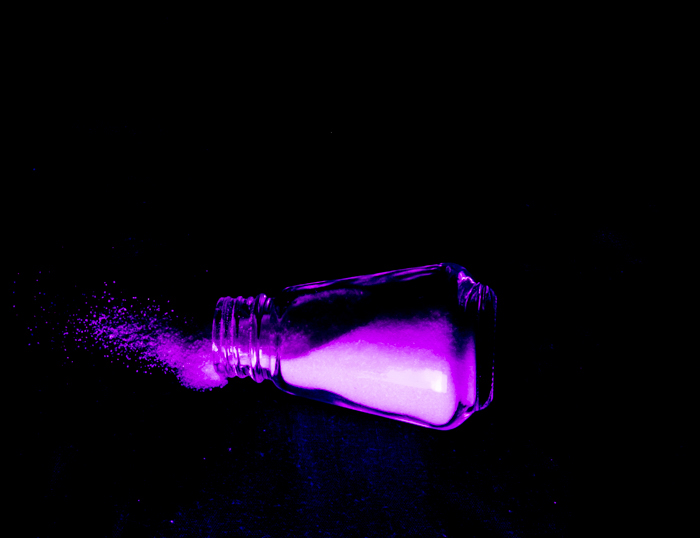 Careful lighting turned this photo from a dull bottle of spilt salt to something more dramatic. Now you may be thinking coloured gels and impressive studio lights but all I used was my mobile phone.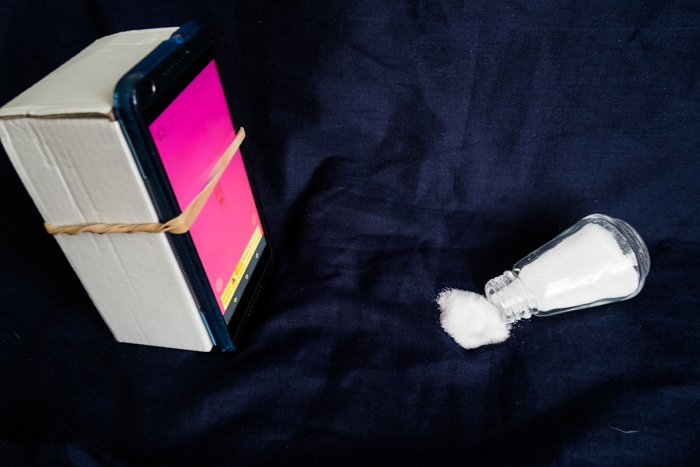 Your mobile phone makes a great light source for small items so download an app to give you a coloured screen and you'll always have a coloured light in your pocket.
I can't write about studio lights without mentioning the humble desk lamp. Never underestimate the power of desk lamps, they're cheap and easy to position and by changing the bulb you can adjust their power output.
5.  Light tent
Light tents are brilliant pieces of kit to use when shooting small subjects and creating a soft even light. I made the light cube below in less than 6 minutes using a cardboard box, white paper and sticky tape.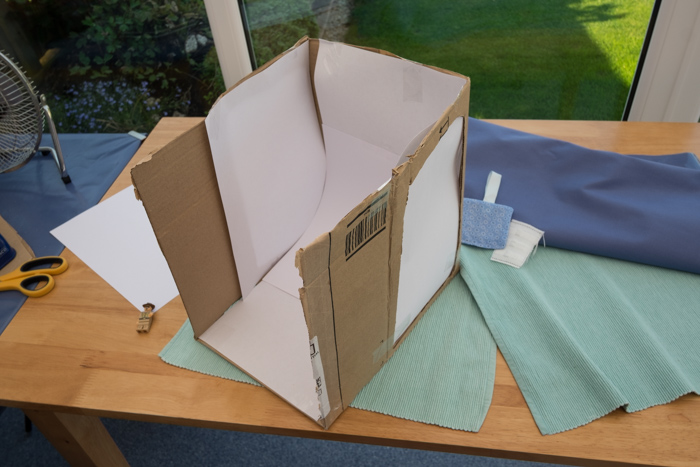 6. Splash proof casing
Expensive camera equipment and lenses may make you think twice where water and mushy food are involved, but to catch the action you need to be quick and get in close.  You can buy splash proof camera casings but a simple cheat is to use plastic wrap.
Carefully wrap your camera body and sides of lens in plastic wrap and pop a filter over the lens. This gives you a great splash proof case at a fraction of the cost.
This simple set up has saved me many times from damaged cameras and messy clean ups.
7. Automated macro rail

When you stack macro photos you need to adjust your focus a tiny amount at a time. Now of course you could buy an automated macro rail to do this, but that's an expensive bit of kit with limited uses.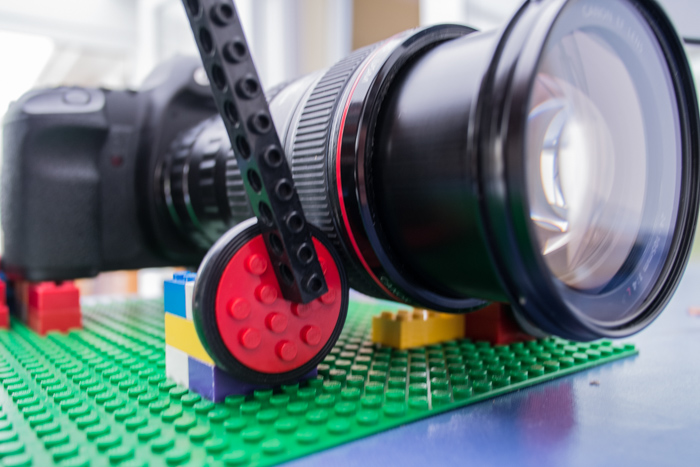 I improvised and raided the Lego box to create my own camera support with a mechanism to adjust the focus a set amount at a time.  This worked brilliantly and was great fun to build.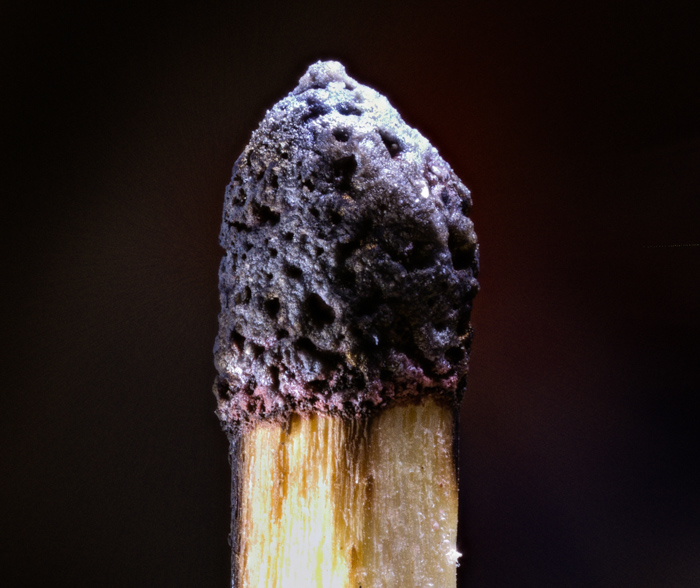 This macro match head photo was created by stacking shots that I had taken with the above Lego rig.
8. Make your own studio at home
I used to run my own studios and had a great time with projects and customers.  Life changes and now I need to be creative and use space at home.
I am certain we'd all love a large purpose built studio but if that isn't an option have a look at these ideas.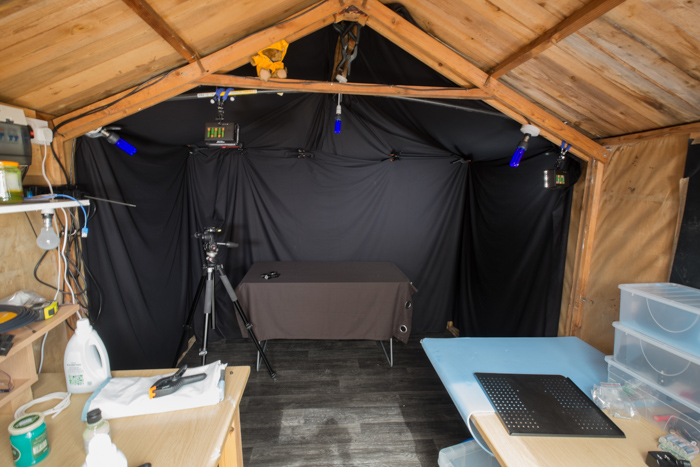 You really can manage in a small space. This is the end of a 10′ x 8′ garden shed. It has been kitted out as a mini studio and I've taken some great shots here.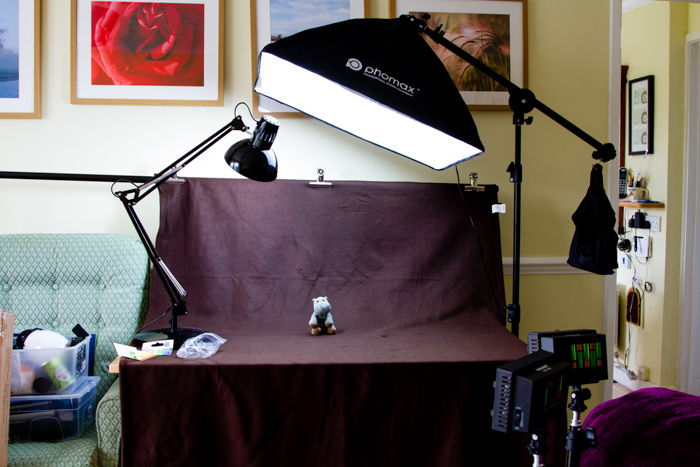 I have also taken over the sofa and dining table in a corner of our front room.
Finishing off.
Even with the best planning you may find yourself caught out. When this happens all you can do is your best and improvise.  If you don't own the kit or have it to hand get creative and think of how you can make it yourself.