Welcome to the last day of school!
Continuing Education – The 80/20 rule of learning.
You've heard photographers including myself say this a million times: the gear doesn't make the photographer.  When you are starting out with photography, you should be investing in your education first and gear second.  With the proliferation of the internet it is quite possible to waste years in front of your computer screen searching for education and photography tutorials.
I've created a list below of all the resources I've found incredibly useful, and most importantly, time saving to get straight to the good stuff.  This 20% of material will generate 80% of the results quickly, rather than endlessly sifting through online tutorials of varying quality and quantity.  I have purchased everything I recommend below, which is why I'm recommending it.  I am paid a small affiliate commission if you purchase some of them through my link (I've noted which ones are and aren't) to help me keep this site going.
Photography Basics: The Hacking Photography Ebook set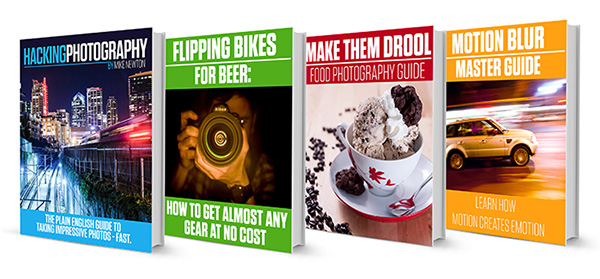 We've covered the very bare bones basics during this free crash course.  The complete Hacking Photography ebook series dives in much deeper, with a full regiment of daily assignments and lesson plans.
These assignments occur after each chapter so you can put your learning into real-world practice and create great portfolio shots after each one.  This comes with a 60 day money back guarantee and is only $14.99.  If you found the Hacking Photography Crash course helpful this will take your learning to the next level.
Click here to learn more about the ebooks.
Lightroom Training

 When it comes to photo editing, you must have Lightroom.  I've been a Lightroom user for years and thought I knew it all until I went through Phil Steele's Lightroom video training.  Its funny, I found Phil's courses and found out that he actually lives just a few blocks up the street!  He is a really cool guy and is an expert trainer who has become a friend.
I would have had much better edits and saved myself TONS of time if I had watched these videos when I started!  I made some critical mistakes in how I use Lightroom that Phil's course fixed.
This course consists of 24 videos totaling 5 hours of training videos for every single part of Lightroom 3, 4, and 5, for only $47.  Seriously, it's the best training out there for Lightroom.
Click here to learn more about the Lightroom Course
Photoshop Training

If you want to learn the more intricate details of how to use Photoshop don't try to figure it out yourself – you will waste years.  To make learning as simple as possible I have to recommend another Phil Steele course.
There is just something about how easy going Phil is and how simple he makes everything in his video series.  The Photoshop Basics course is 3 hours of video consisting of 12 videos and only costs $47.
Believe me, that $47 will save you endless hours learning the hard way.  Click here to learn more.
Food Photography

This past year food and cocktail photography has become somewhat of an obsession of mine!  I've picked up a lot of restaurant clients which has been awesome.
I can honestly say my food and cocktail photography would suck if I hadn't picked up the "Photographing FOOD!" course by Taylor Mathis.  It consists of 8 ebooks for a ton of different topics from shooting with window light only, to using speed lights, editing, etc only costs $40!
I highly recommend this course if you want to really take incredible food photographs.  Click here to learn more.
 Photographing Kids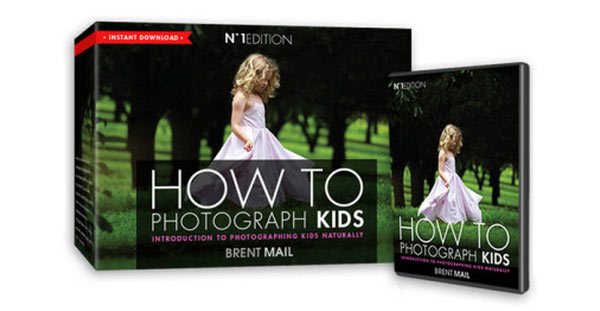 Kids are notoriously difficult to photograph!  From moving so quickly (if you are a parent you know what I'm talking about) to having short attention spans for smiling at the camera, they are a very tricky subject to photograph.
Brent Mail is an expert photographer and has created a fantastic course on photographing kids naturally.  The course consists of over 2.5 hours of video and 24 lessons.  It took him 6 months to create the course!  It's only $97, which is a deal to learn how to photograph kids properly.
Click here to learn more about the course.
 Event Photography

Event photography is a fast-paced, technical style of photography.  If you are ever the person with a camera at the birthday party, school play, friends concert, etc. then you are an event photographer!  In that case you might as well be a great one.
This course is Phil Steele's most comprehensive yet, including over 5.5 hours of video including going on live event shoots!  I've shot hundreds of events and still learned a bunch of tips that have improved my event photos.  The whole course is only $97.
Click here to learn more about the course.
Photography Blogs
Digital Photography School
A huge resource when I started was finding Digital Photography School.  It's a totally free site, been around for a very long time, and has a ton of helpful resources.
You can sort and sift by categories of blog posts like photography tutorials, camera tips, editing and post-production, and more.  Photo Bloggers from all over the world submit posts here so you get a really big range of great info.
Fstoppers
Fstoppers has been a favorite for years.  From covering interesting photographers, gear, and more advanced topics, this place is a must-bookmark.
Thanks again for joining the crash course!